What a Smart Solution....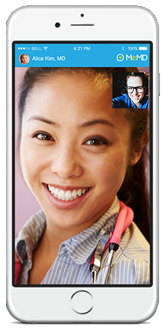 Receive a medical consultation from any location.
Need expert care quickly for a minor illness or injury? With on-demand video exams from MeMD, adults and children can be treated 24/7 for routine health issues.
On-Demand Medical Care
Avoid the hassle of trying to schedule an appointment, simply request an exam from your smart device.
24/7 Video Consultations
Discuss your symptoms with MeMD's board-certified physicians, nurse practitioners and physician assistants.
Personalized Treatment
Your MeMD provider can send prescriptions* for common medications directly to your local pharmacy, when medically necessary.
Telemed Plus

Not available in WA.

24/7 Telemedicine
Patient Advocacy
Online Wellness Website
Monthly Retail Price
(No Enrollment Fee)
$8.95

All memberships cover spouse or domestic partner, children up to the age of 26, parents in the household over age 60 and any other IRS dependents.

MeMD provides online medical consultations with physicians, nurse practitioners, and physician assistants who can write prescriptions when medically necessary and permitted by state law. MeMD is not an online pharmacy, and medications cannot be purchased or dispensed from MeMD directly. MeMD is not a replacement for your primary care physician or an annual doctor's office visit. MeMD is available 24/7 nationwide, subject to state regulations.

*When medically necessary, MeMD providers can submit a prescription electronically for purchase and pick-up at your local participating pharmacy; however, MeMD providers cannot prescribe elective medications, narcotic pain relievers, or controlled substances. MeMD's providers are each licensed by the appropriate licensing board for the state in which they are providing services and all have prescriptive authority for each of the states in which they are licensed.